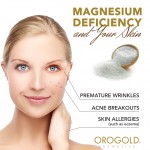 Although the most important and fourth most prevalent mineral in our cells, and needed for over 300 biochemical reactions within the body, many doctors still do not test for magnesium in routine blood tests, meaning that the majority of Americans are magnesium deficient. In addition to helping the body to properly function, preventing osteoporosis, averting heart disease and regulating high blood pressure and diabetes, magnesium also has many benefits when it comes to the skin.
Prevents Wrinkles
The enzymes that replicate and repair the DNA within our body rely on magnesium in order to properly function. Without magnesium, the
skin
is more exposed to damage and inflammation, and this, combined with the inability of the enzymes in the body to repair damaged DNA, leads to an earlier onslaught of wrinkles and fine lines.
Prevents Skin Allergies
Certain skin conditions, such as
eczema
, are usually signs of magnesium deficiency. The human body begins producing histamines when the magnesium levels are low, thus creating red blotches and itchy patches on the skin due to leaking fluid from the swelling blood vessels. In addition to the production of histamines, a magnesium deficiency...
Read More »
---