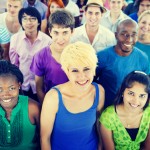 As many countries begin to experience an aging population, researchers have noticed that the rate of skin aging significantly varies between different populations, bringing forth the question of what exactly causes
skin
to age. OROGOLD reviews both intrinsic and extrinsic aging factors, to determine whether nature or nurture weighs more on skin aging.
Intrinsic Aging Factor – Ethnicity
With different ethnicities come different skin
colors
, caused by differences in skin pigmentation. People with darker skin have higher levels of pigmentation, and this has been proven to protect the skin from the sun, keeping skin cancer at bay. It has also been noted that African-American skin is more compacted than Caucasian skin, with a higher content of inter-cellular lipids, helping to resist signs of aging. It has also been discovered that when it comes to wrinkles, Asians seem to experience this later on in life, as well as less severely, than Caucasians, although the exact reason for this has not yet been determined.
Intrinsic Aging Factor – Differences in Anatomy
The thickness of our skin hugely differs depending on where about it is on the body, with the skin on our eyelids being less than...
Read More »
---