The Perfect Fruits Of Summer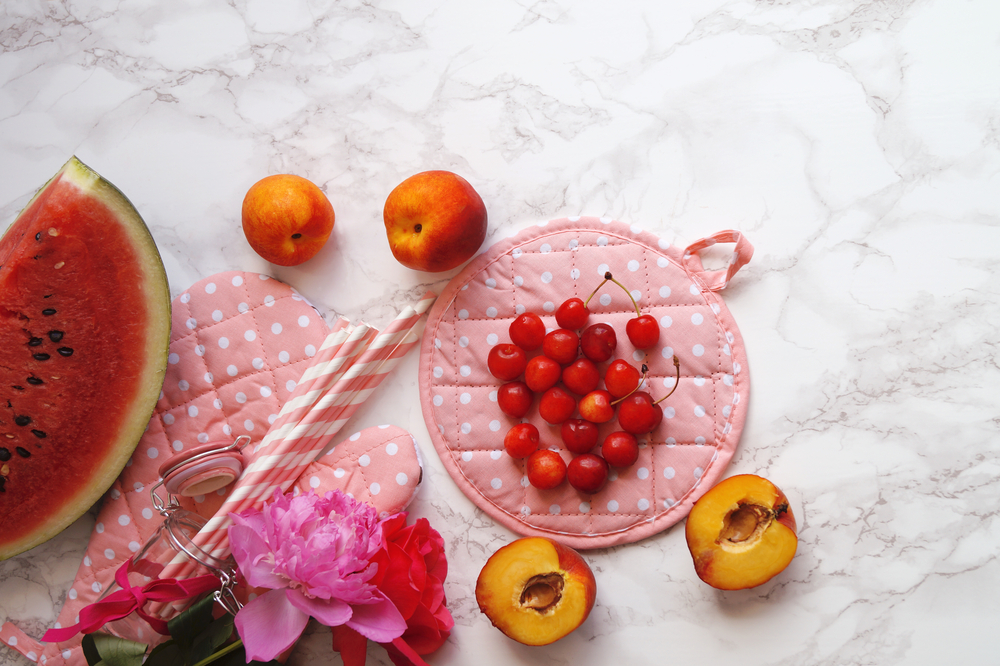 Summer brings with it plenty of sun, beaches, and tasty food. After all, there are a few major summer celebrations to look forward to for most people as well as the random gathering of friends and neighbors to enjoy the weather. A cookout is a great way to make the most of things while ensuring everyone leaves happy and full. Not everyone enjoys spending a lot of time with others though. Sometimes you just want to be able to enjoy the tastes of summer all on your own. Fruit can be a good way to go about that in a healthy way. There are plenty of fruits that finally become in season in summer and as a result, they are fresher, tastier, and all the better for you. The real question tends to be what fruit you're going to be reaching for the most. Let's take a quick look at some of the healthy and delightful options we have in summer.
Peaches
While this fruit is typically associated with the state of Georgia, the mantle of peach growing has long since passed to states like Florida and California. None of this changes the delightful and sweet nature of the fruit though. Wherever it is grown, you can be sure of getting a decent amount of vitamins A and C in each fruit. These are wonderful for helping to protect and nourish the body and skin. It doesn't hurt that there are plenty of antioxidants in the fruit either. All of these work together to support and nurture your overall health. One of the best parts is that peaches tend to be considered lower calorie fruits overall, but you still shouldn't survive on them alone. Remember that fruits tastes as good as they do thanks to all the natural sugars in them. That won't stop peaches from making wonderful summer snacks or healthy desserts as long as we're all mindful of how many we eat.
Watermelon
There are few fruits that enjoy a reputation as tied to summer as watermelons. They are, in many ways, the quintessential summer fruit that is as at home at a backyard cookout as they are in slice near a pool to help people cool down with a treat between swims. The strong point of the fruit is that it is very good for anyone who has been exerting themselves during the summer. A high fluid content allows watermelon to replenish us in a way that few other fruits can claim. Staying hydrated is one of the key tasks we all have in summer if we want to stay healthy. Not only does it help guard against heat stroke, but proper hydration keeps our skin healthy and more resistant to sun damage. It doesn't hurt matters that they also share vitamins A and C with peaches either. Watermelon may not be everyone's favorite fruit, but there is no deny this summer favorite remains an excellent option.
Berries
There is no one single berry that can truly be highlighted for summer because so many of them become readily available. These bite-sized delights all offer their own benefits towards your overall health while providing an extra burst in flavor for whatever you include them in. This is especially true for yogurts, cereals, salads, and similar foods that invite customization. Broadly speaking, most berries provide a decent amount of antioxidants for their size as well as providing a boost to some vital nutrients. Their often rich colors also highlight the presence of flavonoids that in turn help support our health in various small and hard to track ways. So add blackberries to your salad, eat a strawberry or few for a snack, or reach for those raspberries to add a bit of flair to a recipe. You can be sure they'll all further your health this summer.
Summer is one of the perfect times of year for fruit. So many of them become in season that it often feels like all of our favorites are available at once. Eating all of them that we can get seems natural. By all means, enjoy the delicious fruits of summer and make the most of them. Try not to overdo it though. Eat some of them with vegetables and everything should work out fine.