Gabriela Ortiz – OROGOLD Employee of the Month – Tucson, Arizona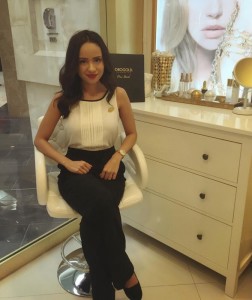 Learn more about the people behind the brand! In today's interview, you'll meet skin care specialist Gabriela Ortiz from the Tucson Mall location in Arizona. Gabriela's genuine love for the brand and excellent customer service made her the perfect choice for this month's feature. See her in action as she walks YouTube beauty guru Vanessa through her first VIP facial. Read on to get to know more about Gabriela and her OROGOLD experience:
OROGOLD: Tell us a little about yourself and your store location
Gabriela Ortiz: My name is Gabriela, I am 22 years old and I've been working for OROGOLD for more than 3 years at the Tucson Mall location in Tucson, AZ. I love this location for many reasons, we have a lot of snow birds from all over the world that keep us busy during the winter, even though we don't really have a winter in Tucson. Our location is very close to the Mexican border so we also get to work with a lot of Mexican customers that come shop in Tucson, they love the product!
OG: What do you like most about working at OROGOLD?
GO: I am a skin care junkie! So working with such amazing skin products just makes my job easier and more enjoyable. I also work with a great group of people that I now see as my second family, which makes coming to work more fun.
OG: What's your favorite OROGOLD product?
GO: I must say I love all the products from OROGOLD. I have tried all of them but the one that will always be my favorite is the 24K Vitamin C Booster Facial Serum. It leaves my skin feeling super smooth with a more radiant, glowing look. I absolutely love the results I get from it every time.
OG: What products would you recommend to a customer that's concerned about oily skin and blemishes?
GO: I would recommend the 24K Oil Control Collection. It's a very complete collection that targets both oily skin and blemished areas. The cleanser controls the extra sebum without disturbing the skin's vital oils; the mask takes care of restoring the blemished areas, and the moisturizer moistures the skin without leaving it greasy or drying it up.
OG: How do customers react when they start to see results?
GO: Customers feel great when we give them the right product for their skin concerns. Once they start seeing results, they become our loyal customers and come back for more and more products because they know that OROGOLD will work for their skin and that makes both them and us very happy.
OG: What is the most important part of your daily skin care routine?
GO: EVERYTHING! I love to take care of my skin and I believe that every step whether it is cleansing, toning or moisturizing plays a big role in maintaining a good healthy skin. I've always believed that in order for make up to look good one must have good skin and also because of the fact that once the make up is gone your skin is what you are left with and you have to give it a good maintenance.
If you are near the Tucson area stop by and visit Gabriela! Gabriela is always eager to help all those who visit her with any of their skin care needs. If you don't live in the area, it is definitely worth the trip to visit OROGOLD Tucson!