Rosalina Heinsius – OROGOLD Employee of the Month – Amsterdam, Netherlands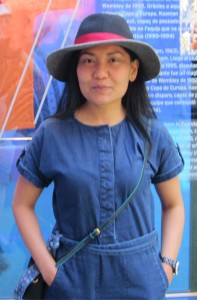 Congratulations to Rosalina Heinsius, OROGOLD's Employee of the Month for September! Rosalina is a skin care specialist at OROGOLD in Netherlands. Her dedication to her customers has made her a very popular staff member. Now we offer you the opportunity to get to know Rosalina.
OROGOLD: Tell us a little about yourself and your position at OROGOLD.
Rosa: Answer: My name is Rosa, I was born in Indonesia, and worked as a banker for 15 years. Last year I moved to the Netherlands and now I work as a sales associate at OROGOLD.
OROGOLD: What do you like most about working at OROGOLD?
Rosa: The first thing I like is the products. I use these products since 2012. In fact, I first bought the products in Singapore. These products give an amazing result. The second thing I like is the working environment. I have learned a lot about the sales.
OROGOLD: What services are provided at your OROGOLD location?
Rosa: Product information, skin advice, facial treatment and services.
OROGOLD: What is the most popular product in Amsterdam? Why do you think that is?
Rosa: The 24K Deep Peeling, because this product can be used by most skin types and offers excellent results.
OROGOLD: What is your favorite OROGOLD collection and why?
Rosa: The 24K Vitamin C Collection. The Vitamin C collection purifies the skin by removing makeup, dirt and excessive oil. Infused with powerful antioxidants such as witch hazel extract and tangerine fruit extract, this exceptional collection helps the skin absorb all the benefits of this collection while rapidly diminishing the appearance of aging.
OROGOLD: What products would you recommend to a customer who is just starting to think about anti-aging?
Rosa: I would recommend starting with the 24K Exclusive Eye Care Collection.
OROGOLD: How do customers react when they start to see results?
Rosa: They say, "wow this is an amazing product!" They often return for additional products and recommend us to their friends.
OROGOLD: Do you have any skin care tips for us?
Rosa: Exercise, eat healthy food, and sleep well!